Business Geographics & Geodemographics

Brochure (not available)

MRegistration module (not available)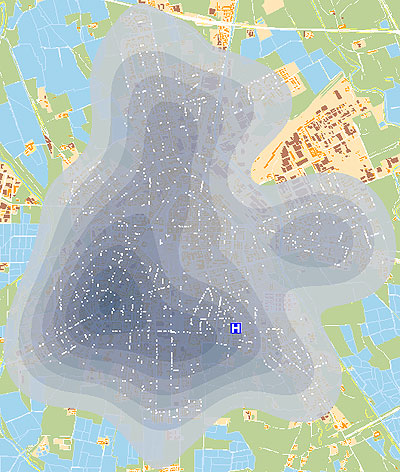 The aim of the seminar is to provide theoretical and methodological basis for the use of GIS in socioeconomic research. Economic geography was born from the need to know the territory in order to improve the markets, the economic activities and to delivery products. It is fundamental to know the strategies to adopt approaching local markets by knowing local demand and supply. Understanding how territory influences enterprises' behaviours helps to build realistic models that can improve those strategies and predict their future consequences.

Quantitative revolution in geography contributed to developing spatial techniques and methods useful for the formalization of these models. Continue innovation in informatics added to the growing availability of data and possibility of both visualising and managing geographic information have therefore contributed to push research to investigate the possibility of linking applied geography and GIS.

Business geographics, known in Italy as Geomarketing represents the rediscovery of a "certain kind" of geography – a professional geography - that is more descriptive and subjective, close to empirical knowledge of real markets using advanced analysis tools such as GIS. Base theories and models belong to economic geography and retail geography involving gravitation and interaction models, implemented in a Geographic Information System that becomes a Decision Support System for market strategies. In this context enterprises need a better knowledge of their potential customers and competitors to gain a competitive advantage.

The use of Geodemographics helps a better understanding of the market gaining information that is out side the company and therefore difficult to achieve. In a marketing perspective segmentation helps the search of potential demand through statistical and data mining techniques. Geodemographics represents a step further, allowing the classification of population through the use of multivariate statistical methods that lead to clusters of geographic units. The final output of this analysis are large databases indicating purchasing behaviors and lifestyles at high geographic detail.

Program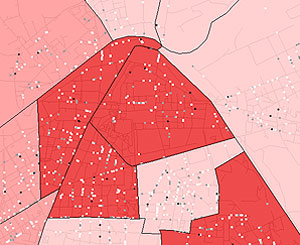 Basic Business Geographics concepts;
Base theories and models mostly used through an historical perspective;
Business Geographics applications;
Theoretical review of GIS spatial analysis tools commonly used in case studies;
A practical example of model implementation;
Geodemographics concepts;
Methods, techniques and variables used in geodemographics classifications;
New application fields for Geodemographics;
Experian's MOSAIC.

Software
Office Automation MsOffice™, RDBMS MsAccess™, GIS ArcGIS 8.x/9, GeoDa 0.9.5-i5™.

Who is it for?
Professional working for both private and public sector interested in socio-economic issues in planning, retail and strategic planning, graduate and post-graduate students in similiar disciplines. Basic GIS and MS Office™ knowledge is required, including elementary statistics in a PC enviroment.

Location & dates
The course will take place at the Environmental Education Centre Casa Archilei , located in Fano (PU) and easily accessible from major transport links. The 8 hours seminar will take place on May 19™ 2007

Registration
Registration forms are available at the Administration Office; they can be downloaded in PDF format or they can be requested via Email at info@giscience.it .
Course fees are 200 € + VAT in a unique payment before course starting. Participants in previous GIScience courses promoted by the Association, students regularly enrolled in degree, post-degree and Phd courses at Italian or foreign universities at the moment of registration, as well as education Institutions, public and private companies enrolling more than one person will benefit of a 10% discount.


Certificate
Completion certificate will be awarded.

Didactic material
All seminar documentation will be available on CD Rom. For those who want to deepen the topics consult the essential reference bibliography:
Harris R., Sleight P., Webber R. (2005) Geodemographics, GIS and Neighbourhood Targeting, John Wiley & Sons Ltd, Chichester.
Longley P., Clarke G. (1996) Gis for business and service planning, GeoInformation International, Cambridge.
Longley P., Goodchild M., Maguire D., Rhind D. (2005) Geographic Information Systems and Science, John Wiley & Sons Ltd, Chichester.

Info
For further information, please refer to info@giscience.it Email address or refer to contact references at Contacts section of web site www.giscience.it .